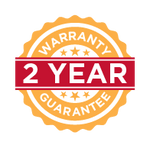 The straight back trough is a great fit for all barns.
Popular ergonomic design allows horses to eat in a more natural position.
The slant back trough is the ideal installation when the feed hopper is mounted on the outside of the stall front.
The slanted back guides feed into the trough inside the stall from the outside mounted hopper. No additional funnels needed.
Both models feature easy-to-clean smooth edges.
Made from safe and durable food-grade polypropylene.
* iFEED has a 30-day money back guarantee. (Not incl. shipping).
Product must be undamaged, and in its original packaging for a full refund.
Troughs
Straight back trough: 15.5" wide x 13" deep (front to back) x 17" tall.
Slant back trough: 15.5" wide x 13" deep (front to back) + additional 6" for slant x 15.5" tall (incl. slant)