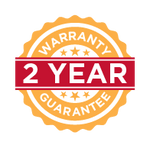 Note: This unit does not include a power supply and stainless bracket. (To be purchased separately).
New to iFEED? Please see the iFEED starter pack.
The iFEED unit is installed on the inside of the stall. It can be mounted on vertical/horizontal bars, mesh or directly on wood walls.
The unit has a protective band around the top edge to help prevent horses from opening the lid as well as a stainless steel bracket to keep horses from playing with the activator at the bottom of the hopper.
It is highly recommended that the hopper be installed high enough that the horse cannot reach his/her head over the top of the unit.
Make sure that all wires are securely fastened and out of reach of the horse.
Never install the power supply inside the stall.
The iFEED straight back trough's ergonomic design (sold separately) allows horses to eat in a more natural position, and helps reduce feed spill.
* iFEED has a 30-day money back guarantee. (Not incl. shipping).
Product must be undamaged, and in its original packaging for a full refund.
iFEED unit:
Length: 21"
Width: 10"
Depth: 7"
Capacity: 12 pounds
Funnels:
Long: 10.5" L x 2.25" W
Short: 8.5" L x 3" W
Power supply:
Length: 8"
Width: 7"
Depth: 4"
Troughs
Straight back trough: 15.5" wide x 13" deep (front to back) x 17" tall.
Slant back trough: 15.5" wide x 13" deep (front to back) + additional 6" for slant x 15.5" tall (incl. slant)